Travel Guide | Postcard from Durham
When my niece moved to Durham to study music, I knew it would be the perfect opportunity to plan a spring trip to this lovely Northern city. My university years were spent in beautiful York studying medieval history, but I never made it as far north as Durham, even to visit. Time to put that right.
So here we are. It's early Spring, pre Covid, and we're chugging along the M62 through the snow topped Pennines on our way for a weekend break in Durham. And I couldn't be more excited.
Destination Durham
I already knew I would love Durham – old buildings with cobbled streets soaked in history. Delightful independent cafes and tearooms. Lovely boutique shops sitting alongside a modest choice of high street favourites. A great choice of restaurants, bars and theatres.
Cathedral cities are always my favourite. There's something about the ancient towers crowning the skyline and the sense of history hanging in the air. Here, the winding river Wear loops around the cobbled streets to create a perfect peninsular for the majestic sillhoette of the Cathedral.
WHERE TO STAY?
Premier Inn – Durham City Centre | Freemans Place, Walkergate
I'm normally more keen on quirky independent hotels and I'm sure you could find any number of them, but for this trip we wanted somewhere easy to find, right in the city centre with good parking. Premier Inn was perfect. Spacious rooms with dreamy mattresses, crisp white bedlinen and good wifi. It's 5 minutes walk from the hotel door to the centre of Durham.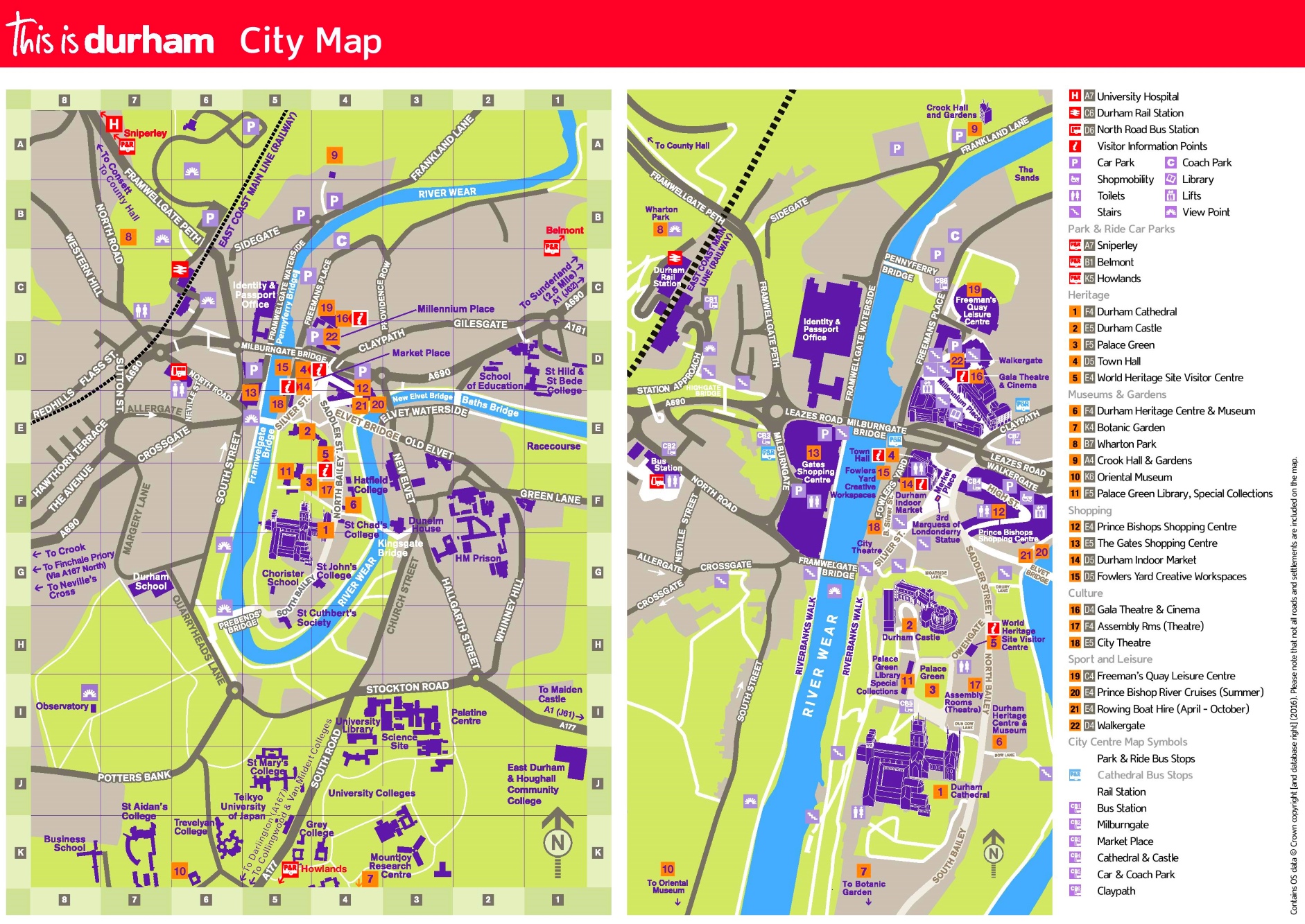 WHERE TO COFFEE?
Flat White Cafe & Kitchen
After numerous recommendations of this place, we headed straight there and it didn't disappoint. It's a student favourite serving coffee, cakes and light lunches in the Cafe and also amazing "queue worthy" breakfasts in the Kitchen. It's located right in the middle of the city on the way up to the Cathedral in a listed building that's a delight to spend time in. Thoroughly recommend. Keep reading for the pancakes … they probably should get a blog all of their own.
WHERE TO EAT?
Fat Hippo
I would have happily eaten in Fat Hippo whatever food they served, just because of the cute name. It turned out to be a burger restaurant with funky lighting and reclaimed wooden alcoves. After a 5 hour drive on the first night we were delighted with a Portobello Mushroom burger stack topped with deep fried melted cheese, brioche bun and chips. Tasty and satisfying with great service.
Bill's
A big student favourite, right next to Flat White Kitchen, Bill's has the perfect menu to suit everyone. We had breakfast there – and enjoyed all the usual egg / avocado / bacon / pancake options, cooked to perfection and served with a smile by our favourite waiter Giuseppe. It's a spacious dining area set around different levels creating private areas and cute corners to get tucked away in. We loved the rustic warehouse design with fresh natural light pouring through the windows.
ASK Italian
After a wet Friday afternoon, we wanted somewhere close by the hotel, where we could cosy up and order something tasty. The Italian menu offering at ASK Italian is always a crowd pleaser and we were impressed with the warm ambiance and thoughtful service we received. Garlic bread to share, followed by a comforting bowl of Linguine Carbonara with extra parmesan, was just the ticket on a chilly winter's night.
5 REASONS TO VISIT DURHAM
1 It's small but perfectly formed
It's the most compact city we've ever been to and great if you've travelled by train. It's easier to walk around the centre – 10 minutes from one side to the other – than try and drive. We parked the car in a central multi storey and left it there for most of our visit.
The city is built around the 12th century Cathedral with characterful streets full of tall leaning listed buildings, winding their way from the Castle Green down to the river Wear. You don't have to mind hilly streets and steep steps in this city and we did wonder about mobility access. But for the energetic ones, a good march around the city would well substitute for a gym workout.
2 It's full of the most instagrammable cafes
Even if you couldn't care less about Instagram, you'll be delighted by the number of cute independent coffee shops, brunch spots and afternoon tea treats. Give me this over the usual high street chains any day of the week. Let's hope all these great businesses survive the Covid crisis and open up later in the year.
You might have to queue for a few minutes at the weekend to get your perfect pancake breakfast, but you'll be glad you did.
3 It's a history lover's dream
The centre of Durham – Palace Green with it's Normal Cathedral and Castle forms a UNESCO World Heritage site. So while you're sipping your Flat White planning your tour around the final resting place of St Cuthbert and the Venerable Bede, you can imagine all the scenes from Harry Potter that were filmed here, and get your fix of history.
4 Listen to the Music
We chose this particular weekend to visit Durham because Durham University Chamber Choir, starring our favourite soprano – niece Hannah, are performing "Longings & Lamentations" in the Chapter House (Professor McGonagall's classroom) on Saturday night. You can read the excellent (and very technical) Review of Longings & Lamentations published by Music Durham who make special reference to "Soprano Hannah McKay was dazzling in the stratospherically high solo line".
5 Location Location
The city of Durham is right on the edge of Northumberland and the wild North East.
The Durham Heritage coast is just 30 minutes to the east with it's windswept coastal path, and the Durham Dales to the West. We'll definitely be back with our boots, to explore High Force Waterfall, Hamsterley Forest and the Tunstall Reservoir.
If you fancy a spot of shopping, Newcastle and the Metro Centre are just a hop and a skip up the A1(M) with a good view of the Angel of the North to the side of the motorway.
A 3 day weekend proved just right for exploring the city, but if you fancy getting out and about around County Durham and Northumberland you'll need a few more days.
We'll be back for more "Flat White pancakes" and a little explore of the wild Northumberland coast.
Have you been? What are your best Durham recommendations?
That's all for now
Judith x